Treyarch has revealed the Black Ops 3 Loyalty Program and all-new Free Run game mode during the second Black Ops Friday live stream.
The new Loyalty Program rewards players who have reached specific levels in Black Ops 2, Ghosts or Advanced Warfare with BO3 themed in-game items:
Level 10 or higher: Loyalty Calling Card
Level 31 or higher: Loyalty Reticle Set
Prestiged: Loyalty Prestige Weapon Camo
Your loyalty rewards will be based on the game where you have progressed the furthest. Players that have reached any of the required levels will need to link their account by November 5, 2015 to be eligible. Click here for more details on how to do so.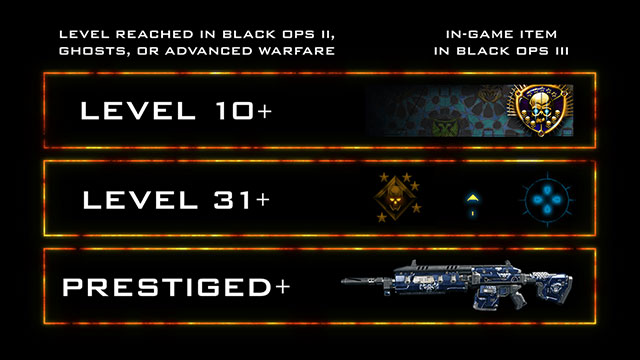 The new Free Run game mode is a solo experience in multiplayer where you are competing in time-trial courses for leaderboard positions. The Free Run courses are full of puzzles with movement- and weapon-based challenges. There are four courses and they get progressively more difficult.
Check out the replay of the stream below. The Free Run mode is showcased at 9:00 mark.