In addition to the Zombies mode being revealed, Treyarch and Activision have also unveiled the rest of the Black Ops 3 Collector's Editions: Hardened and Juggernog.
Hardened Edition
Specialist Concept Art Cards: Each of the games Specialist featured on their own card with unique concept art and information.
"The Giant" Bonus Map: Zombie map that continues the story where Origins left off. Re-live the chaos of the classical "Der Riese" Zombie map.
Collectible Steelbook: Steel case featuring an exclusive design.
Weaponized 115: Personalization Pack that has a Zombies themed weapon camo, reticle and animated calling card.
Cyborg: Personalization Pack with an electrotech themed weapon camo, reticle and calling card.
Soundtrack: Black Ops 3's in-game score.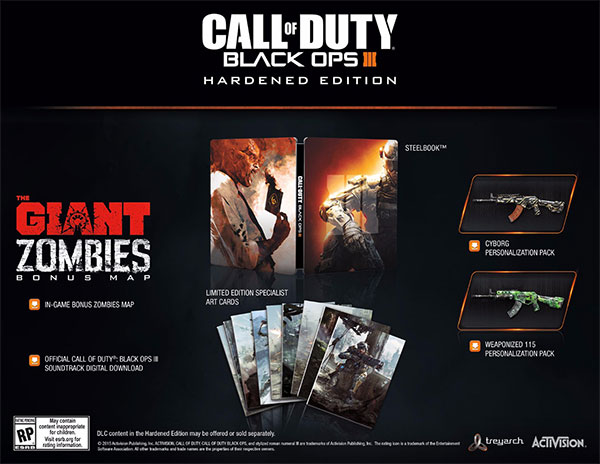 Juggernog Edition
The Juggernog Edition includes everything that's in the Hardened Edition above. Its main feature is a working Juggernog mini-fridge modeled after the Perk-A-Cola machine in the Zombies mode. The mini-fridge features light and audio effects, and can house up to a dozen 12-ounce beverage cans. You also get Perk-A-Cola beverage coasters that come in a custom storage tin.
The Season Pass is included and it gives you access to four DLC packs that are coming out in 2016. The last piece of content in the Juggernog Edition is an in-game bonus pack that includes a custom BO3 themed weapon camo, reticle, and calling card.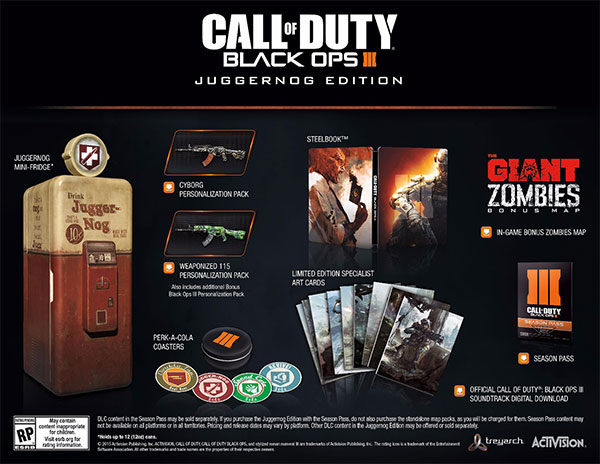 Digital Deluxe Edition
The Digital Deluxe Edition was already revealed back in April, but we now have more information on the rest of the goodies that come along with it: Season Pass, "The Giant" Bonus Map, Weaponized 115 Personalization Pack, and Cyborg Personalization Pack.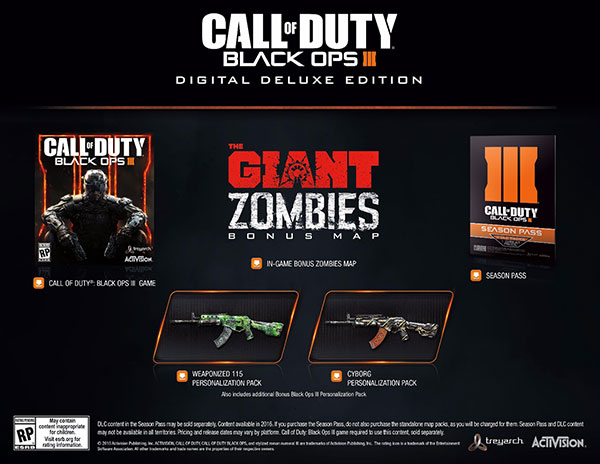 That's it for this year's Call of Duty Collector's Editions. The Hardened Edition cost $79.99, the Digital Deluxe Edition is $99.99 and finally the Juggernog Edition will make your wallet lighter with a price tag of $199.99.